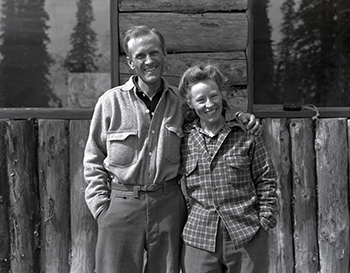 Created in 2006 and named in honor of Brad and Barbara Washburn, the distinguished Washburn Legacy Society recognizes a special community of the Museum of Science supporters: the visionary, generous individuals who support the Museum through a charitable bequest, trust, life income gift, beneficiary designation or other legacy gift.
Brad was president and director of the Museum from 1939 to 1980, and was responsible for transforming the institution from a natural history museum into the dynamic science center that opened its first wing at its new Science Park location in 1951. A talented photographer and cartographer, Brad shot photographs that allowed the first full mapping of Mt. Everest and propelled numerous studies of the world's highest peaks. An intrepid explorer and skillful cartographer in her own right, Barbara was the first woman to scale Denali, Mount Bertha, and Mount Hayes. Under Brad's management, the Museum's endowment grew to almost 20 times its previous value, allowing for continued expansion of the organization. The Washburns' leadership is synonymous with the the Museum of Science. 
Members of the Washburn Legacy Society receive a special thank you gift, recognition in the Museum's annual report, and invitations to the Museum's annual Washburn Legacy Society program in addition to other special events. If you have already included the the Museum of Science in your estate plans, please let us know so we may properly thank you, and invite you to join with other science-minded philanthropists who share your passion.
To learn more about our Washburn Legacy Society, or to join today, contact giftplanning@mos.org.