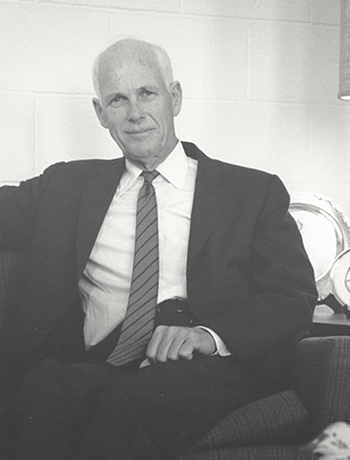 It's hard to imagine how someone could be more committed to the Museum of Science than D. Reid Weedon, Jr. From the time he joined the board of trustees in 1964 until he passed away in 2016 at the age of 96, Reid had a hand in every institutional initiative and capital project at the Museum and made numerous gifts, including a "gift that gives back" in the form of a charitable remainder trust.
Weedon helped build the Charles Hayden Planetarium and Blue Wing and assisted with the Museum's first comprehensive capital campaign that brought guests the Hall of Human Life and the Charles River Gallery. He served as president of the board from 1967 to 1972 and became a life trustee in 1972. In 2012, Weedon received the Colby Award, one of the highest honors bestowed by the Museum, for his decades of philanthropic and volunteer service.
He was particularly passionate about fundraising. He believed the Museum could not do its work of increasing the public's understanding of science without the monetary support of that public. In 1998, Weedon set up a planned gift to the Museum through the D. Reid Weedon, Jr. Charitable Remainder Trust. The trust remainder will support the salary and related expenses of the president and director of the Museum of Science, in perpetuity.
Estelle Weedon, Reid's wife, has built upon Reid's enduring legacy by making her own estate gift to support the president's salary through the D. Reid Weedon, Jr. Endowment. "Reid believed deeply in the importance of public science learning. He was passionate about attracting new donors and new ways of giving to the Museum. He wanted to make meaningful gifts that would create lasting change and further the mission of the institution," said Mrs. Weedon.  
Weedon is remembered by his friends and colleagues at the Museum as much for his personality as for his dedication to his work.
"Reid's belief in the Museum's mission was contagious. … He was a great mentor and an absolute delight to work with," said Nancy Dempze, a Museum trustee who worked closely with Weedon on the planned giving committee. 
Museum of Science President, Tim Ritchie, concurred, "Reid will always be remembered for his unmatched dedication, collegiality and generosity. We are so fortunate to have had a leader like Reid steadfastly championing and serving the Museum over a period of six decades."