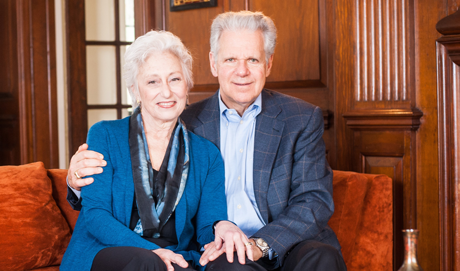 Jeff Arnold and Shellie Miller were already involved with the the Museum of Science when a visit to the butterfly garden strengthened their relationship to the institution. "I was watching the kids, and I saw their mouths open with joy on their faces as they stared at the butterflies … Getting to experience the Museum through the eyes of those kids that day just got me hooked," Jeff said.
Years later they both get emotional remembering the moment. It was this emotional connection to the Museum that helped them decide to set up a charitable remainder unitrust. "It was a completely pain-free way to support a cause we care about," Jeff said. "The Museum took care of everything." With this planned gift, they will help future generations discover a love of STEM.
Shellie, who grew up in Massachusetts, vividly remembers her childhood trip to the Museum shortly after the Charles Hayden Planetarium first opened. "I remember looking up and being surrounded by stars. It really felt like you were traveling through the planets. It was magic," Shellie recalled.
For Jeff, an avid hiker who grew up outside of New England, the connection came later. He first got involved with the Museum in 2011 when he hiked Mt. Washington as part of the Washburn Challenge fundraiser. His work as a fundraiser and passion for the Washburn Challenge, coupled with his belief in the importance of STEM education, led him to join the Museum's Board as a Museum Advisor.
Though their paths to the Museum were different, they each arrived at the same conclusion: "The the Museum of Science is an internationally known, prestigious place. It's someplace you want to support," Shellie said. "You know that your contribution is really going to make a difference."